My mother, Mary Caroe, who has died aged 81, was often found "head down and bottom up" in a flowerbed at her home, Vann, near Godalming, Surrey. She and her husband, Martin, from a family of ecclesiastical architects and Nobel prizewinning physicists, were gifted Vann in 1969.
It was a huge challenge. The house, partly Arts and Crafts, needed repairs; the skylights leaked and Mary would line up an assortment of chamber pots on the main staircase to catch the rain. While "the bones" remained from the original garden design, including a Gertrude Jekyll water garden, ground elder and bindweed were rampant.
With minimal paid help, they cleared and replanted, quickly acquiring considerable knowledge, though Mary used to quip: "My husband married me because I am a good weeder." Jekyll became an abiding interest and Mary recently raised funds for the digital reproduction of her 140 Surrey garden designs. The National Garden Scheme records 50 years of Vann opening to the public.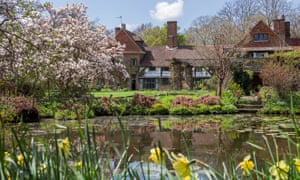 One of seven children of Elizabeth (nee Van den Bergh) and Stephen Roskill, a naval officer and historian, Mary was born in London and brought up in South Warnborough, Hampshire. On leaving St Mary's school, Wantage, she was sent to a domestic science college in Dorset, which she hated. Instead, she told her father, she wanted to train as a doctor.
After further studies at a crammer, and a year at her local Eggars grammar school in Alton, Hampshire to pass her remaining A-levels (returning to school uniform when she was already 20), she qualified at Westminster hospital medical school, then worked in London in general practice and family planning.
After her marriage in 1962 and the move to Surrey, she continued working part-time, including with military families, and eventually taking a post for 15 years as a forensic medical examiner for the county's constabulary. Years later she still could still recall many dramatic cases not least her first – an 80-year-old clergyman accused of murdering his wife. She could be on night duty at the Guildford police cells assessing those suffering from an excess of drink or drugs, yet be home in time to get her children ready for school. Spotting a need, she created a rape suite at the police station to reduce victims' trauma and was the first doctor honoured with the Chief Constable's medal.
Vann framed much of Mary's life. She welcomed a huge circle of friends and relatives. There were concerts, Turkish carpet fairs, garden parties, family celebrations, and film stars from the BBC's Howards End and Disney's Christopher Robin, which were both shot at the house. Throughout her life, Mary's energy was formidable, her interest in others deep, and she loved it all. Succumbing to Covid-19 was definitely not part of Mary's plan: she had a full year of travel ahead with her regular companions; volunteering commitments at her community shop; and a host of social events lined up in her illegible diary.
Martin died in 1999. Mary is survived by of her children, Oliver, Ruth, Emily and me, Rebecca, and eight grandchildren. Another son, William, died in 1974.
Mary Caroe,  who has died of Covid-19 aged 81, was, at various times, a family doctor, the founder of a rape and sexual abuse support centre and a police surgeon.
But she became better known to garden lovers and readers of The Daily Telegraph as the fiery custodian of Vann, a rambling home of many architectural periods, near Godalming, Surrey, surrounded by a magical five-acre garden partly designed by Gertrude Jekyll.
Her husband Martin Caroe, an ecclesiastical architect, had inherited the 1542 house, extended by his grandfather, William "WD" Caröe [Martin dropped the umlaut], also an architect and a major figure in the Arts and Crafts Movement, in 1969.
Telegraph Website link. and  Telegraph's Facebook post.
The Worshipful Company of Plumbers
It is with great sadness that we have learnt of the death of Past Mistress Dr Mary Caroe who has succumbed to the coronavirus outbreak.  Mary was the widow of Past Master Martin Caroe, who was Master in 1985/86 and was a great supporter of the Company for many years.  We particularly enjoyed seeing her in later years at the annual Carol Service in St Magnus and we know how much she enjoyed the yearly Past Consorts' lunches held alongside the Liverymen's Ladle Dinners.
Many members will know that the Caroe family has a very long association with the Company. Martin's father was Master in 1951/52 and his grandfather served as Master for three years from 1905 to 1908 and then for seven years throughout WW1 from 1913 to 1920.
Our thoughts are with her daughter Liveryman Rebecca Caroe and all the Caroe family at this sad time.
It is with a heavy heart and much sadness that I share the news with you all of the death early on Sunday morning of Mary Caröe, our much-loved Surrey Gardens Trust friend and colleague. Always smiling, always welcoming she will leave a huge whole in our gardening world.
Mary has been with the Surrey Gardens Trust and on the Council from its inception in 1991. Her enthusiasm and dedication to the Trust and all its endeavours is epitomised by her tireless work with the Gateway Project ensuring that the gates to the gardens she loved were open to everyone.
Mary's knowledge of Gertrude Jekyll and her Surrey gardens has been an inspiration to me over recent years and I feel greatly privileged to have shared her passion.
We look forward to exchanging happy memories and tales of Mary and her life in the months to come.
Sending my very best wishes to you all and do stay safe and well.
Sarah Dickinson
Chair, Surrey Gardens Trust
Hambledon Village Tribute
A Hambledon tribute to Mary Caroe, who died of Covid-19 on 5 April 2020 aged 81
The Caroe family have been at Vann since 1907.  Mary, her husband, Martin and their children  moved into the house in 1969.  
Mary noted in the Hambledon Millennium Snapshot that, though Vann was then designated as being in the Parish of Busbridge, she liked the provision for children set up by the Rev Ted Elton at Hambledon Church and "threw her lot in" with Hambledon.  She never regretted it and enjoyed taking her part in so much of its life:  the fetes, the flower and produce shows, special interest organisations, sporting and fund-raising events.  
And what a part she played!  Her contribution to the Nursery School was immense.  When its closure as the Village School was threatened by Surrey County Council in 1982 she immediately swung into action with others who, like her, had children there, steering the formation of a charitable Trust to create and then run Hambledon Nursery School which opened in  September 1983.   
During the preparations for the school's re-opening, Mary took it upon herself to scale a ladder onto the roof to clear off moss, weeds and debris.  Working alone, all went well until she needed to    descend. For whatever reason she was unable to manoeuvre herself back on to the ladder and had to be rescued by a passer-by who heard her calls for help 
Mary chaired the School Trust for over 17 years.  She faced her first real challenge in March 1985 when Guildford Diocese, which opened the original School in 1852 and still owned the property, offered to sell it to the Nursery School for £45k.  That couldn't be  managed from pupil-generated income so the necessary funds immediately had to be borrowed.  However, largely due to Mary's amazing skills at attracting  donations, within the next four years over 70 villagers had covenanted nearly £16k.  
She maintained this level of fund raising and within a little over 10 years not only had all the loans been repaid but the School had also constructed (and paid for) its own car park.  
To this day the School maintains its ethos and 'outstanding' Ofsted rating;  it continues to have an excellent head teacher and staff;  and as Eddie Wood, who has been the Treasurer for over 20 years,        comments, it remains in a strong financial position.   Eddie has, however, noted one improvement since Mary's time:  Trustee /Management meetings now take place in the Chairman's house rather than, as Mary insisted, sitting on tiny plastic chairs built for four years olds in the Nursery itself.  
To quote David Evans, currently Chair of the Trustees, "the Nursery School today, as a result of what Mary and the others involved did, is a joyous place, providing a wonderful start in life to so many small children.   It is, and long will be, a wonderful testament to Mary."   An equally warm tribute was paid by Nicola Collett, teacher and subsequently Head Teacher at the School from 2001 to 2018:   "Mary's passion for the Nursery School was immense and she was a real inspiration to me.   I'll never forget her kindness." 
Mary was a long-term volunteer at Hambledon Village Shop where she ruled the till with an iron hand – woe betide those who got their sums wrong, queried their change or fell behind in settling their IOUs.   And it wasn't just the till:  if ever there was a slow-down in customers she would be found helping out in other ways, be it pricing, organising the shelves or cleaning (though she never learned to be a barista!).  Equally important, she was always ready to stand in at short notice for other volunteers who were unable to make their shifts, even bringing her unsuspecting Grandchildren in tow if her caring duties should overlap.  Shop life will never be the same without Mary.
Nor did Mary's keen eye overlook the Village Hall.  The gardens at Vann have been open to the public since the early 1970s under the National Gardens Scheme but for the past 30 years visitors have been able to enjoy teas provided by the Village Hall volunteers on various bank  holiday afternoons –  and pretty good teas they've been, making nearly £700 in 1993!  A very nice little earner for the Hall, and all thanks to Mary who allowed them to take every penny of their profits (and sometimes a bit more) home with them. 
It was Vann that was truly the centre of Mary's life, providing a setting for gatherings of friends and relatives, Turkish carpet fairs, garden parties and musical events.  Every summer she organised a      concert in the barn, with picnicking in the garden.  She was very good at finding young budding musicians (many of whom went on to greatness) and the concerts were always lovely.  
She also developed a passion for gardening.  "I think my husband married me because I am a good weeder," she told the Telegraph Magazine's Stephen Lacey in 2014 – and that was just as well as, even after Martin's death in 1999, Mary resisted any temptation to take things easy.   "I have a mowing man, and a gardener three days a week, but I do the rest" she told Stephen Lacey – and so she did, right up to the time of her death – though she did ultimately concede (chided by her children)  to expanding her team of helpers with the inspired appointment of Alex White as Head Gardener.  She won the Phillip Underwood Cup for most points in the Village Garden Show in 2019, so her weeding skills still stood her in good stead!
She made Vann work for its living in other ways, including as a location for film and TV productions.  Who will ever forget the filming of Howards End in 2017 when Vann stood in for the house itself?  The film even gave Mary her own big moment, as an extra in the funeral scene (shot in St Peter's church yard) when, to quote from her article in the April 2017 issue of the Parish Magazine, she appeared bewigged, corseted and in lovely period  clothes – and learned the tedium of repeat shoots! 
Mary kept a close eye on planning and development matters throughout Hambledon, attending the annual Parish Meeting regularly and adding her forthright comments.   Her contribution to the village and to village life was immense.  She was interested in everything and in everyone and always exuded that interest with a smile, a comment or a good piece of advice.  Despite her reputation as 'Scary Mary' she had the warmest, caring heart. 
Hambledon will be a sadder place without her, but she would be the first to tell us all to get on with life and with looking after the village she cared so much about.  John Anderson, Chairman of the Parish Council, speaks for us all when he says "I cannot  imagine the village without Mary in it".  
Let's also remember others battling the virus or coping with unexpected bereavement including a near neighbour of ours in Hambledon who sadly died on Sunday. Mary Caroe was 81 and a giant of our local community as well as a family friend. She was a force of nature and a force for good and our thoughts are with Emily, Rebecca, Oliver and Ruth.